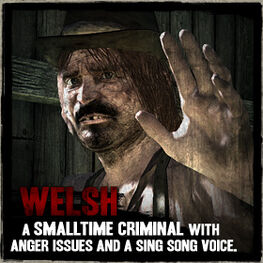 Laddwyr Celtaidd! is a Red Dead Redemption posse.
About the posse
Celtic Killers, The only posse(that im aware of) made by welsh people for welsh people just want some gang members to cause chaos with and have a general laught with.
Joining the posse
Gamertag PyschoLiam Send Voice Msg with Celtic Killers Join as the added text,(voice msg to see if your welsh) if you dont get picked its nothing personal and if welsh will be accepted no matter what level.
Members
Leaders
Leader 1 PyschoLiam(Me)
Leader 2 JON3S 247(when he finally buys it)
Other members
Member 1
Member 2
Member 3 etc.
External links
Ad blocker interference detected!
Wikia is a free-to-use site that makes money from advertising. We have a modified experience for viewers using ad blockers

Wikia is not accessible if you've made further modifications. Remove the custom ad blocker rule(s) and the page will load as expected.