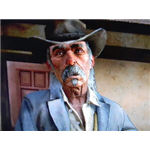 Landon's Gang is a Red Dead Redemption posse.
About the posse
In 1911 Landon Ricketts started a gang with Jason M. Bright, Carnelious Wolfe, Jack Marston, Michael Reese, Fred Everts, Red Harlow, Jack Swift, Alajandro Cruz, Jefe Rocha, Roberto Gatos, Esteban Morales , Juan Vargas, Billy Sanchez, Fernando Naranjo, Garett Comstock, Dr. Lane Davies, Stuart B. Wilson III, Charley Bullock, Dirty Dan Pister, Nick Klein, Abraham Marsh, Jesse Lange, Nick Robbins, Pig Josh, Ugly Chris, Buffalo Solider, Mr.Kelley, Jack Swift, Shadow Wolf and Annie Stoakes. In 1912 they all came back to The USA to become notorious train robbers, bank robbers, and Thieves. For the next few years they did the same thing over and over until late 1913 to early 1914 when they planned a attack on Fort Mercer against their own gang and with the help of Kyle McGinty they killed everyone there but lost Ugly Chris, Pig Josh, Shadow Wolf and Mr.Kelley to the fight. the gang broke up when Landon Ricketts died in his sleep. The last time they met was at Landon Ricketts funeral at Blackwater when the Mexican Army, The Bollard Twins, and the rest of Walton and Dutch's gang. They Defended themselves but Jack Swift Bled Out, and Kyle McGinty Took over and brought Landons Gang back to find out who was the last person seen with Ricketts
Joining the posse
Send Ceione a friend request on XBL
Allies
1.Bollard Twins Gang
2.Rebels
3.Riders Of Ares
Leaders
Other members
aj yankee
Member 2
Member 3
Ad blocker interference detected!
Wikia is a free-to-use site that makes money from advertising. We have a modified experience for viewers using ad blockers

Wikia is not accessible if you've made further modifications. Remove the custom ad blocker rule(s) and the page will load as expected.