About the posse
We are the lawmen of red dead redemption. I feel like the computer lawmen are not effective so I created The Lawmen posse to help them out.
What we do
we act like lawmen. Protecting civilians, collecting bounties, killing other posses and players with outlaw skins.
Joining the posse
We are only on XBOX 360 and elite. The leader is Saundersrr. as long as you are friendly and cooperate with us, you will be fine.
Members
Saundersrr, MCP, Sorryman,Saintassasin,A noob on beer, armadead1, silverclaw, Alaskan Hosener, and random people who only join for a night or so.
Leaders
Commander- Saundersrr
Sheriff/right hand man- MCP 01010
==Ranking==

1. regular lawman with deputy badge.

2. lawman with sheriff badge

3. sheriff from the marshal catogory.

4. if you are very skilled, Marshal.

You rank up by, staying with us for a period of time, minimum rules broke, following orders, and being a skilled player.
Rules
1. start out who the ranking is listed. 2. don't be ass. 3. obey computer lawmen( let them kill you) 4. dont kill computer civillians or freindly non- posse members. 5. dont kill other teamates unless we are alone and bored.
notes
You can be a federale or lawman, i don't care.Saundersrr is Edgar Ross in case you dont have the dlc. You may also be, Deputy Jonah or Eli, Marshal Johnsohn, Landon Ricketts, Juan Vargas or Jose Rodriguez.
Gallery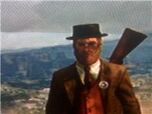 Ad blocker interference detected!
Wikia is a free-to-use site that makes money from advertising. We have a modified experience for viewers using ad blockers

Wikia is not accessible if you've made further modifications. Remove the custom ad blocker rule(s) and the page will load as expected.