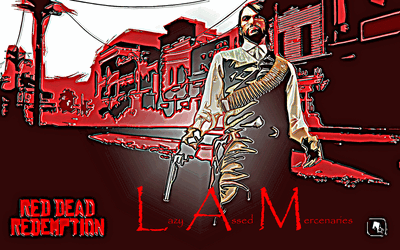 Lazy-Assed Mercenaries is a Red Dead Redemption posse.
About the posse
We're all Dutch

We have 8 standard members and some reserve. Duel at your own risk because we're gonna kick your ass!
Try to kill us.. Or we will kill you..
Joining the posse
you can't join because all the members joined on our favourite gamemagazine: Power Unlimited (Site: www.pu.nl).
Members
The following members are called by their 'www.pu.nl' usernames. Their pu.nl usernames are behind their Gamertags.
Members:
- GoldenN GuN/GoldenN GuN
- Jorn/xXJornNLXx
- muurverf/xThePun1sher
- killfrenzy/killfrenzy9
- Nyx/Beunhaas XL
- Dr. Oetker/Diablero
- RoanHCG/roankuyt3
- Feike/M2AE Mr iFam0uS
Reserve:
- SilverR GuN/?
- King Muller 007/?
- Murfinator/Murf1nator
- GeneSiS/xGeneSiiSx
External links
www.doesntexist.com