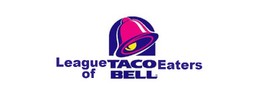 League of Taco Eaters is a Red Dead Redemption posse.
About the clan
PS3!We play alot of free roam and gang matches. We also invented a assassin game we play.
Rules
1.You have to like Mexican food
2.You have to play Red Dead Redemption alot but not to much we just dont want peopel that rarely ever play
3.Dont kill random people in free roam inless they kill you first
4.If you have a mic use it if you dont buy one
5.Dont kill allie posse's
Joining the clan
If you want to join send a message to that-tyler-guy or Duane965. We will take you trough the recruitement test to see if your worthy enough to join.
Members
Leader
Co-Leaders
Other members
natividad5
raptors13jays
MitchellWHU
aztexcb
Leader43
Allies
Bellow will be the names of the allies and the name bellow it will be the leader. If any posses/clans want to be allies just have the leader send a message to that-tyler-guy.
Brotherhood of the Assassin's
External links
Ad blocker interference detected!
Wikia is a free-to-use site that makes money from advertising. We have a modified experience for viewers using ad blockers

Wikia is not accessible if you've made further modifications. Remove the custom ad blocker rule(s) and the page will load as expected.