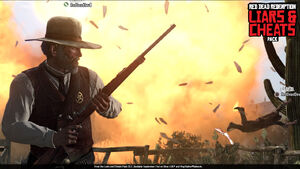 Legends And Killers (PSN) is a Red Dead Redemption posse.
About the posse
We are a posse that moslty do almost anything hang out ,get gold guns also help other players level up
Joining the posse
You must have The Outlaws To The End,Legends And Killers,Liars And Cheats,Hunting And Trading Outfits, And Undead Nightmare to join contact shadow_rider59 anyone can join :D
RULES
You must do what the Leaders Tell You
You must guard Armadillo our Town
You must have a MIC
You must be a team player and protect Armadillo
Leaders
Leader 1 shadow_rider59 (RedDeadShadow59)
Leader 2 Cubs_79
Members
AssassinShadow77
buddy576
Bros72
Other members
Member 1
Member 2
Member 3
External links
Ad blocker interference detected!
Wikia is a free-to-use site that makes money from advertising. We have a modified experience for viewers using ad blockers

Wikia is not accessible if you've made further modifications. Remove the custom ad blocker rule(s) and the page will load as expected.