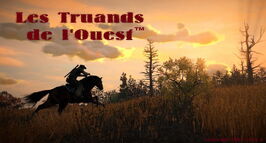 Les Truands de l'Ouest is a French-speaking Red Dead Redemption posse on the PS3 system. So this article is written in French
A propos de la team
Crée fin 2009 pour Grand Theft Auto IV/Episodes from Liberty City sous le nom de "The team of Killers" puis "Killers from Liberty City", et ayant eu temporairement une sous-partie pour Call of Duty Modern Warfare 2, la team s'est orientée pour Red Dead Redemption avant sa sortie.
Nous sommes une team 100% francophone jouant exclusivement sur PS3.
Actuellement nous sommes une vingtaine de membres et jouons principalement sur Red Dead Redemption, principalement en fusillades et en exploration. Nous organisons également des parties pour permettre de monter rapidement en niveau, d'avoir des armes en or ou des défis. Nous proposons également un guide des armes et des animaux légendaires sur RDR, un moyen d'améliorer le fusil à bisons et un moyen pour sortir de la carte
Quelques règles évidentes sont à respecter comme n'insulter personne. Pas la peine de préciser, ce sont les mêmes partout. En mode libre, c'est no-kill entre nous sauf si on précise le contraire, ou qu'on veut "préter" une arme à un joueur d'un niveau inférieur au nôtre. Bien entendu la règle du no-kill ne s'applique pas aux autres joueurs que l'on peut donc copieusement plomber en équipe et faire repartir avec du goudron et des plumes
Comment joindre la team
Pour cela il faut déjà se présenter dans la partie du forum dédiée à ceci, puis vous passerez une période de test d'environ une semaine. Rien de terrible, ceci permet juste de s'assurer qu'on ne recrute pas de tricheurs ou de joueurs immatures. Vous ne serez pas viré juste car vous avez un mauvais ratio en fusillade, au contraire vous pourrez rapidement progresser.
Nous recrutons à tous niveaux d'expérience ou de compétences, avec ou sans micro. Les seuls points nécessaires sont d'avoir Red Dead Redemption sur PS3, et d'être francophone.
Membres
Leaders
General-Motors
Legend-Zakj
Nikos_Killer
Xtremjeff
Autres membres
Badream69
Calrore
Hobz974
kikilolkiki "klk"
Lilzak
MARO0KINO
Necro
razor-back-93
ryuk59
scarfacemperor
XxElmatadoresxX
Xxmico200xX
XxRivaolxX
Liens externes
Voici le lien de notre team : http://the-team-of-killer.xooit.fr/index.php
Ad blocker interference detected!
Wikia is a free-to-use site that makes money from advertising. We have a modified experience for viewers using ad blockers

Wikia is not accessible if you've made further modifications. Remove the custom ad blocker rule(s) and the page will load as expected.