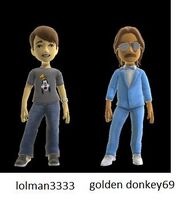 Lol donkeys is a Red Dead Redemption posse.
About the posse
About the name: LOLman3333 and previously golden DONKEY69.
We do really weird shi- i mean stuff to do with bears. In a non-sexual way. Most of the time.....
Oh and by the way, really serious posses can go blow themselves. It is a game. So what if we can't survive you and your 'super badarse noob killing super elite sniper team', we'll respawn in about 10 seconds on the other side of the map. The lol donkeys play for fun and enjoyment.
Joining the posse
Sorry, we are not accepting anyone else except people we know
Gus is currently re-applying for membership. He will be reinstated if he successfully completes 'The Gauntlet'.
Members
Leaders
golden donkey69 (PREVIOUS)
lolman3333
Other members
Oscar sometimes I suppose
Maybe someone else...
Potentially Gus
External links
Ad blocker interference detected!
Wikia is a free-to-use site that makes money from advertising. We have a modified experience for viewers using ad blockers

Wikia is not accessible if you've made further modifications. Remove the custom ad blocker rule(s) and the page will load as expected.