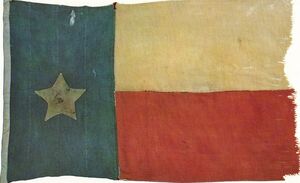 Lone Star Legends is a Red Dead Redemption posse.
About the posse
Remember the Alamo! We are the Lone Star Legends, a group of Texas Outlaws bringing Lawlessness and Chaos to the Frontier. The Legends control some parts of New Austin and West Elizabeth. Other players are allowed into the territories, just don't start anything... We got some rules to go along with are Posse, and here they are:
Rule One: A Posse is an organization that works together. That means listen to orders, and help each other. If one posse members disagrees with a course of action, they are allowed to speak out against it. If a player is constantly attack other members of the Posse, they will be banned and become an enemy of the Posse.
Rule Two: Keep Peace when needed. Do not attack players who are just riding by, unless attacked first. If we are attacked by another posse, expect a War.
Rule Three: No Glitchers or Modders.
Rule Four: Arguements between Posse Members will be settled by a Duel.
Territories of the Legends:
Rattlesnake Hollow
Mescalero
Joining the posse
To join the posse, you must be above Rank 20. Send a Message to LoneStarSamurai.
Members
Leaders
LoneStarSamurai (Founder and Leader)
GOOBER WARRIOR (General)
Other members
Monkeygun44
LegitBabyBear
LT Grave Digger etc.
External links
Ad blocker interference detected!
Wikia is a free-to-use site that makes money from advertising. We have a modified experience for viewers using ad blockers

Wikia is not accessible if you've made further modifications. Remove the custom ad blocker rule(s) and the page will load as expected.