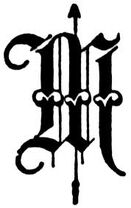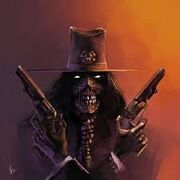 As fire falls from the sky, all the motherfuckers must die.

Los Muertos is an outlaw gang of murders and thief's that only desire is power and money. We hire out to other gangs and we expect to be paid after we're done.
Los Muertos was founded on the morals that a man could steal and kill all in the name of greed and lust. It all started after a huge fortune was made after pillaging the Mexican country and robbing the towns of America, it was herein desided that money was what kept the world running and that only a few should have the right to have that power. But shortly after the founding of the gang a prominent member fell from the throne, which started a downward spiral in power and many were lost in the turmoil that followed. But from this tragedy came forth the power to never show pity to those that were weak and fearful. Now Los Muertos has branched off into charters to gain more power over those they feel are unfit to carry the title of a member of Los Muertos. To serve the money and the gang till my last breath, that is the Los Muertos motto and we live by it every day. Los Muertos now controls all of Mexico and won't give it up without a fight. They are always looking for new recruits to join and new allies to support.
Terms of recruitment
To earn the right to be in Los Muertos you must be ruthless and have no fear of death.
You must have over 300 murders and have the guts to show for it, you must also complete all the gang hideouts by yourself in 3 hours.
If you don't have any of these done you will be labled as a prospect and trained to kill.
Qualities
Vengence
Determination
Greed
Desire to prove yourself
Leaders
OG- floggerdude
Chapter Boss- aaronstroudlee
Chapter Boss- BlazingDragonia
Chapter Boss- HeardBook
Members
Members are not shown for their saftey.
Ad blocker interference detected!
Wikia is a free-to-use site that makes money from advertising. We have a modified experience for viewers using ad blockers

Wikia is not accessible if you've made further modifications. Remove the custom ad blocker rule(s) and the page will load as expected.