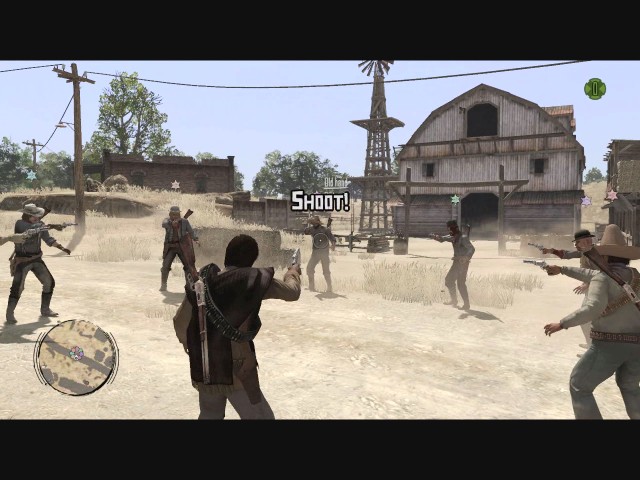 Los Reyes de México is a Red Dead Redemption posse.
About the posse
Los Reyes de México 'The Kings of Mexico'is a PSN posse. We are a unique group of Mexican terrorists that specifically dominate certain areas of U.S property. We intend to terrorise local towns, rob goverment trains, vanquish or recruit any valuable players and complete any shooting challenges available. Once completed, we possess a secret hideout, [the whereabouts properly unknown] this is where we lure any non-Mexican posses to commit an unsuspecting ambush, to send a message and gain a respected reputation. Join us on our unstoppable massacre, and you and many other players will be promised our method of a very fast way to rank up as a reward to your dedication.
Joining the posse
If you are interested in joining Los Reyes de México, send a friend request to the following username:HinduHunter. Bellow on the sent request please explain your useful qualities that could be helpful in assisting our manhunt e.g. a great skill in sniping from a reasonably long distance. If we accept, (it would take at least a day to reply) we will invite you to a private match with two of our gang members to set you on a small trial depending on your specialities. You will then be set a role and status in our gang. Once you have possibly joined we will inform you how long and when we start our killing spree.IF YOU DO JOIN YOU MUST CHOICE A CHARACTER FROM MISC MEXICANS.
Members
it constantly grows in number, but now consists of 5 very experienced players skilled in thier own way.
Leaders
Other members
JewLaughs
Elivis-the man
arareinfection etc.
External links
Ad blocker interference detected!
Wikia is a free-to-use site that makes money from advertising. We have a modified experience for viewers using ad blockers

Wikia is not accessible if you've made further modifications. Remove the custom ad blocker rule(s) and the page will load as expected.