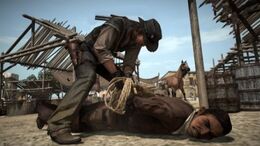 Los soldados is a Red Dead Redemption posse.
THIS IS A PS3 EXCLUSIVE CLAN
About the posse
Los Soldados is the finest posses out there in the RedDead wild wild western lands. The posse has a fraction in PS3 ONLY. We don't really expect anything difficult of people that join our posse, just play well and don't be a dick.
Joining the posse
If your joining the posse on PS3 add: KoH-ELEments ,and&nbsp once you have added me, simply send your current rank and I will decide wether you can join (Most of the time the answer will be a yes, even if you are a lower rank)
==Members== PS3 ONLY:
---
KoH-ELEments (call me aiden)
---
Lowes94 (call him lowes)
===Leaders===
---
- KoH-ELEments (PS3)
===Other members===
---
-Lowes94 (PS3)
---
-EliteMatthew34 (PS3)
External links