Ad blocker interference detected!
Wikia is a free-to-use site that makes money from advertising. We have a modified experience for viewers using ad blockers

Wikia is not accessible if you've made further modifications. Remove the custom ad blocker rule(s) and the page will load as expected.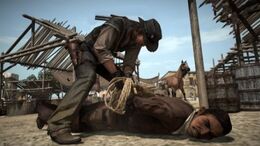 Los soldados is a Red Dead Redemption posse.
THIS IS A PS3 EXCLUSIVE CLAN
About the posse
Los Soldados is the finest posses out there in the RedDead wild wild western lands. The posse has a fraction in PS3 ONLY. We don't really expect anything difficult of people that join our posse, just play well and don't be a dick.
Joining the posse
If your joining the posse on PS3 add: KoH-ELEments ,and&nbsp once you have added me, simply send your current rank and I will decide wether you can join (Most of the time the answer will be a yes, even if you are a lower rank)
==Members== PS3 ONLY:
---
KoH-ELEments (call me aiden)
---
Lowes94 (call him lowes)
===Leaders===
---
- KoH-ELEments (PS3)
===Other members===
---
-Lowes94 (PS3)
---
-EliteMatthew34 (PS3)
External links