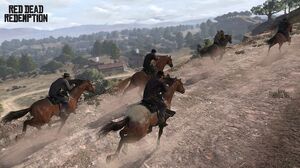 Lost And Damned is a Red Dead Redemption posse.
About the posse
We ride on our horses, we shoot anybody in our way. The lawmen don't scare us, but we sure as hell scare them.
Joining the posse
To join the posse, you must message Deathless600 on PSN and he will add you. But before you join, you must kill 3 bears in bearclaw camp.
Members
Leaders
Deathless600
Yakuza-Man (He's taking a long break from PSN)
Other members
Member 1 (Could be you)
Member 2
Member 3 etc.
RULES
We do not shoot animals unless they attack us.
We do not kill other players randomly.
We do not kill eachother.
Ad blocker interference detected!
Wikia is a free-to-use site that makes money from advertising. We have a modified experience for viewers using ad blockers

Wikia is not accessible if you've made further modifications. Remove the custom ad blocker rule(s) and the page will load as expected.