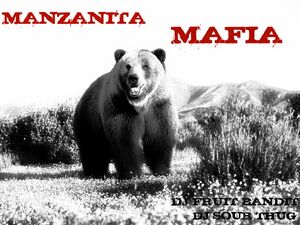 MANZANITA MAFIA is a Red Dead Redemption posse.
About the posse
Very Experienced clan looking for more. (kids). We enjoy rooftop fist-fights, gang hideouts, random killing sprees, posse battles, hunting, finding glitches and experience farming. Our hideouts include Beechers Hope (main), Las Hermanas, Mansion in Escalera. Fall back to Beechers hope for safety. ( We can show you the glitch to hide inside the house). Friendly fire not tolerated. Level 25+. All characters accepted except for Waltons gang ( the guys with the top hats). Contact DJ FRUIT BANDIT on XBOX LIVE for invite.
Joining the posse
Contact DJ FRUIT BANDIT on XBOX LIVE for information and/or invite.
Leaders
Leader 1 DJ FRUIT BANDIT
Leader 2 DJ SOUR THUG
Other members
Member 1 -DISCLOSED
Member 2 -DISCLOSED
Member 3 -DISCLOSED
External links
Ad blocker interference detected!
Wikia is a free-to-use site that makes money from advertising. We have a modified experience for viewers using ad blockers

Wikia is not accessible if you've made further modifications. Remove the custom ad blocker rule(s) and the page will load as expected.