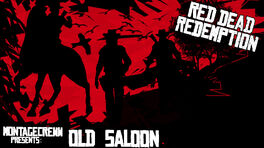 MONTAGECREWW is a Red Dead Redemption posse over Xbox Live.
About the posse
This is the Posse we will be using when filming shorts and episodes for the upcoming machinima The Old Saloon. We will also make guides on achievements and community matches.
MONTAGECREWW
MONTAGECREWW is our main youtube channel were we upload gameplay, montages, walkthroughs and playthroughs frequently so be sure to check us out.
The Old Saloon
The Old Saloon is our new Machinima based in Red Dead Redemption. It tells the story of a man who had his entire posse shot down by one man, and now he is out for revenge. The series starts with the man gavering up a small posse to find this man and hunt him down. On the way they side track into various ambushes and problems in which they overcome.
Shorts ToS
Occasionally we will post shorts about the Old Saloon which in no way is part of the main story, but we will try to make them quite funny. We will base our shorts around spoofs or skits that didn't make the series. We will also do shorts on achievement guides and the 1st will be 'Hit The Trail' which will show our characters and the long journey to achieve this achievement.
Characters
N/A
Joining the posse
Must be part of MONTAGECREWW or help with production of The Old Saloon
Members
Leaders
JISHYJOSHY
xII BoX MaN IIx
oXo SNIPEZ oXo
BU3HY
External links
http://www.youtube.com/montagecreww
Ad blocker interference detected!
Wikia is a free-to-use site that makes money from advertising. We have a modified experience for viewers using ad blockers

Wikia is not accessible if you've made further modifications. Remove the custom ad blocker rule(s) and the page will load as expected.