Melbourne Rebels is a Red Dead Redemption posse.
About the posse
Melbourne Rebels is the ultimate clan for all Victorian Red Dead Redemption PS3 users in Australia. This clan is for absolute anyone (including new players) to join. It was formed on the 16th August 2010 and is currently the only Melbourne based clan for the Red Dead Redemption game.
Rules
1. You have to be a resident of Victoria
2. No 'Spam' references
3. Discrimination (racial, gender, etc) will not be accepted
Joining the posse
You can join by sending cj_hoops a message (he does not accept random friend requests).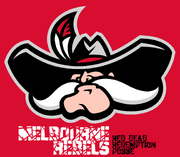 Members
cj_hoops (Captain)
Leaders
Other members
(Be the first and automatically become a leader)
Ad blocker interference detected!
Wikia is a free-to-use site that makes money from advertising. We have a modified experience for viewers using ad blockers

Wikia is not accessible if you've made further modifications. Remove the custom ad blocker rule(s) and the page will load as expected.