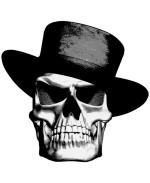 Men with No Names is a Red Dead Redemption posse.
About the posse
The Men with No Names is an(XBOX LIVE)posse inspired by Clint Eastwood's famous spaghetti western character. This posse is dedicated to having fun in Free Roam, doing some gang matches, racking up high bounties(this is a posse of outlaws), and working together in co-op missions. This posse will move all around the world of red dead, but its main headquarters is the saloon in armadillo. Also this posse will be very team focused, if anyone messes with one of us they mess with all of us.
Joining the posse
This is new posse only for long term investors in red dead's multi-player. If your interested in joining send me a friend request or message me, my gt is deluxperez. Once we join a session together new members must join me on a gang hideout or co-op mission to assess your teamwork. If you pass you will become an official member of the posse. I will then give you the posse rules and a unique rank in the posse, after that we'll saddle up and take on the west.
Members
Members must be 16+ age to be in the posse. Also a mic is a necessity, but if you prove to be a good team player your may be welcome even without a mic.
Leaders
Leader 1(Man with No Name): deluxperez
Leader 2(Angel Eyes):
Other members
Member 1(The Good):
Member 2(The Bad):
Member 3 etc.(The Ugly):
External links
Ad blocker interference detected!
Wikia is a free-to-use site that makes money from advertising. We have a modified experience for viewers using ad blockers

Wikia is not accessible if you've made further modifications. Remove the custom ad blocker rule(s) and the page will load as expected.