Ad blocker interference detected!
Wikia is a free-to-use site that makes money from advertising. We have a modified experience for viewers using ad blockers

Wikia is not accessible if you've made further modifications. Remove the custom ad blocker rule(s) and the page will load as expected.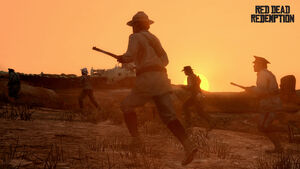 Mexican Army is a Red Dead Redemption posse.
About the posse
!!!THIS POSSE IS RETIRED!!!
We are a large group of soldiers who want to keep the country save, we hunt Rebels and Banditos, we clear towns like Nosalida and Tesoro Azul from all kinds of pigs. Are you tired of all posses demanding that you're a high level? Well don't worry you can join even if you're rank one but you'll be a Soldier and have to take orders from us.
!!!THIS POSSE IS RETIRED!!!
Joining the posse
Sorry no Joining, the posse is retired.
Members
General
The general is the leader of the army and has command over the entire army he is as character Jose Rodriguez
General de Brigada
The general de brigada takes over the generals place if the general is not there. he is as character on of the U.S. Army.
There is no General de Brigada yet. (we're looking for one, if you're a high rank and you would like to be GdB. Tell me.
Cornels
The cornel gives orders to capitans and is a very important man. He can do whatever he wants unless the general says otherwise. he is as character Jose Rodriguez or Agustin Allende
Capitans
The Capitans give commands to the soldados and corporals according to the coronels. he is as character Jose Rodriguez or Vincente de Santa
Corporals
Corporals lead groups of Soldados, they tell them when to shoot and how to attack. The always listen to higher ranks and never improvise. They're as character Juan Vargas
Soldados
Soldado is the lowest rank, he listens to higher ranks and never goes of on his own. he is as a character Juan Vargas
Sol. Vlad123lol
Sol. Mr_Flapjack731
Hall of Fame
These are the brave men who have done something special for the army. Below it also says how to get in the list, Getting in the hall of fame always means you're ranked:
Gen. tomessi666
Cor. AKanagu
Cor. Daantjuhh_123
Cpt. Noose_Officer
Cpl. Luis_L_P0wnszcz_U
Cpl. iBas57
The man who kills KILLANATOR999
The man who kills EvilMonkey131313