the Mexican army kill gangs in mexico and kill any outlaw in mexico. (rebeldes, Bantitos,a player with bounty) Our settlement is in Escalera.
requirements to join:
- your character is Juan Vargas of the Miscellaneous Mexicans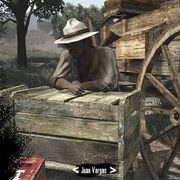 - you should not kill the mexican army - you should listen to the officer
officers: - Hedevil 24 - .........
soldiers: - ......... - ......... - ......... - ......... - ......... - .........
To join, make contact with: Hedevil24 on xbox live
This continues until the 22th April 2011
Ad blocker interference detected!
Wikia is a free-to-use site that makes money from advertising. We have a modified experience for viewers using ad blockers

Wikia is not accessible if you've made further modifications. Remove the custom ad blocker rule(s) and the page will load as expected.