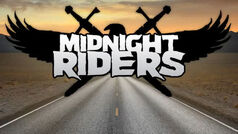 Midnight Riders is a Red Dead Redemption posse.
About the posse
We're a XBL Posse who ride to live and live for the Lulz. We always do missions and hunt or occasionally have a run at the Lawmen for one of us doing something that shall remain a secret >.>, were always looking for new members who wish to join.
Joining the posse
Contact Arcane Sentinel and he'll tell you what you need to do to join the M.R.
Members
Leaders
Leader 1 Arcane Sentinel
Leader 2 Demonic Thamuz
Other members
Member 1 ProdigyFaction
Member 2 Steeldrake Jack
Member 3 Mr. Happytriggers
Member 4 Mr. Deathpoop
External links
Ad blocker interference detected!
Wikia is a free-to-use site that makes money from advertising. We have a modified experience for viewers using ad blockers

Wikia is not accessible if you've made further modifications. Remove the custom ad blocker rule(s) and the page will load as expected.