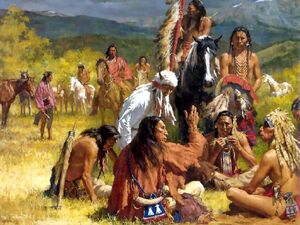 New Austim Marshal Service is a Red Dead Redemption posse.
About the posse
The New Austin Marshal Service originally started out as a cops and robbers game but we decided to make it a life game.You make your own life and start out with a certain gun which will depend on what life you choose.
Joining the posse
To join you must go on the site and apply. Then you will be asked what life you want. The lifes to choose are Mayor,Mexican Army,Hooker,Marshal,Gang Member,American Army,Shop Owner,Indian, or Hunter. We have a working money system so if you pick a life where you deal with money you will be taught how to use it and keep track of it.
Members
Leaders
Leader 1 Boomhauer021894
Leader 2 HoLy CrUsAdE122
Other members
Member 1
Member 2
Member 3
External links
Ad blocker interference detected!
Wikia is a free-to-use site that makes money from advertising. We have a modified experience for viewers using ad blockers

Wikia is not accessible if you've made further modifications. Remove the custom ad blocker rule(s) and the page will load as expected.