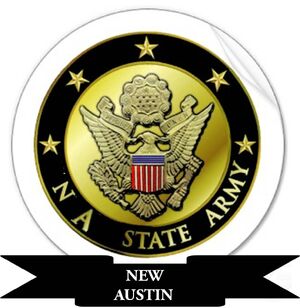 New Austin State Army is a Red Dead Redemption posse.
About the posse
The Clan is on Xbox live only. We are a Military clan on RDR and we are undefeated in battle and have some of the best players on Red dead in the clan we are also pretty strict and you must where the American Army Uniform if your in the clan and there is also a complexed rank system within the clan.
Joining the posse
To join N.A.S.A you must show a good understanding of the game and must show potenial to be a good player and also we only play Hardcore.
Members
Leaders
DubstpMksMeHrny
W4RF4RE IV
Other members
ElDesperado1977
Kill a Hoe 4Sho
ShaggyShaw95
Xpetoric
ihateuguys420
ViP IPATROIT
F3LL SiLENT
External links
www.newaustinstatearmy.weebly.com
Ad blocker interference detected!
Wikia is a free-to-use site that makes money from advertising. We have a modified experience for viewers using ad blockers

Wikia is not accessible if you've made further modifications. Remove the custom ad blocker rule(s) and the page will load as expected.