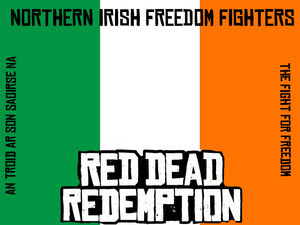 Northern Irish Freedom Fighters is a Red Dead Redemption posse.
About the posse
We are the freedom fighters of the irish wild west and we are BEAST!!! XBOX 360 ONLY
Joining the posse
If you would like to join the posse contact either xjimbob or XROHDICH 95X you must be good enough or you will FAIL!!!!
Members
Leaders
Other members
bradleyrules
Goligher64
Dysart 13
da tanker smyth
Horse Names
XROHDICH 95X - Ferrari
xjimbob - Armalite
Goligher64 - Dead Eye
da tanker smythe - Sally
Posse Specialties
XROHDICH 95X - Marksman/Driver/Rooftop Gunman
xjimbob - Demolitions Expert/Hacker/Good Shot
Favourite Hideouts
Fort Mercer
MacFarlanes Ranch
El Presido
Slogans
XROHDICH 95X - It must be fun having down syndrome
xjimbob - Your Fucked Now
more to be added
External links
Ad blocker interference detected!
Wikia is a free-to-use site that makes money from advertising. We have a modified experience for viewers using ad blockers

Wikia is not accessible if you've made further modifications. Remove the custom ad blocker rule(s) and the page will load as expected.