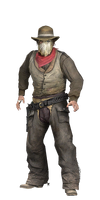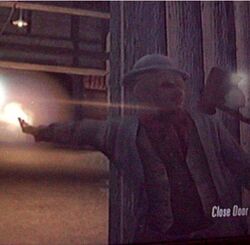 One Eye's Outcasts is a Red Dead Redemption posse.
About the posse
A gang formed by Ex-Bollard gang members Johnny "One Eye" LeForest and John f Alexander, after they were set up by their gang to take the fall in an arms shipment gone awry.
Main Hideouts - Cochinay, Thieves' Landing and Tumbleweed.
Joining the posse
Only personal friends allowed to join. No recruits. May let other players "temporarily" join on occasion.
Members
Leaders
Leader 1 Johnny LeForest (Actual Gamertag)
Leader 2 John F Alexander (Actual Gamertag)
Other members
Member 1 Peter Bertin (highshot35)
Member 2 Gabe Hickey (icydeath123)
Member 3 Patrick (strikewitches69)
Member 4 Chris (turk666)
Member 5 Jessica (Cross Zombie)
External links