Ad blocker interference detected!
Wikia is a free-to-use site that makes money from advertising. We have a modified experience for viewers using ad blockers

Wikia is not accessible if you've made further modifications. Remove the custom ad blocker rule(s) and the page will load as expected.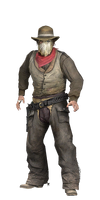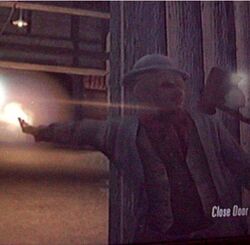 One Eye's Outcasts is a Red Dead Redemption posse.
About the posse
A gang formed by Ex-Bollard gang members Johnny "One Eye" LeForest and John f Alexander, after they were set up by their gang to take the fall in an arms shipment gone awry.
Main Hideouts - Cochinay, Thieves' Landing and Tumbleweed.
Joining the posse
Only personal friends allowed to join. No recruits. May let other players "temporarily" join on occasion.
Members
Leaders
Leader 1 Johnny LeForest (Actual Gamertag)
Leader 2 John F Alexander (Actual Gamertag)
Other members
Member 1 Peter Bertin (highshot35)
Member 2 Gabe Hickey (icydeath123)
Member 3 Patrick (strikewitches69)
Member 4 Chris (turk666)
Member 5 Jessica (Cross Zombie)
External links