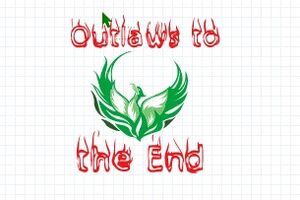 Outlaws to the End is a Red Dead Redemption posse.
About the posse
We are the Blackwater Outlaws, Red Dead Redemption's most wanted. We do not succumb to the law and will fight back by any means necessary. We are the deadliest gang in West Elizabeth, all keen hunters and criminals. We see each other as family and treat all with respect. Our favourite pastimes are hunting all kinds of animals, searching around Nekoti Rock/Cochinay, getting high Bounties, using the cannons at a Mexican fortress and obtaining Trophies.
Joining the posse
Requirements:
To be skilled with a rifle
To be obedient
To be able to complete gang hideouts easily
To be respectful to the leader and vice-leader
To be able to survive Tanner's Reach with fairly weak weapons
To be able to get a bounty of 2000 or higher
To be able to get a kill streak of at least 10
To own a headset or microphone
To have completed the campaign
To have completed Master Hunter II
Since we are a PS3 gang only, you obviously have to have a PSN. If you wish to join us, please send me, EB-INGE_67, or my vice-leader, DrxyrdKxryrd, a message titled "Joining Posse" and we will add you and test you. Also, please add your name under the Members list. The initiation test is to be sent to Tanner's Reach and to kill every single cougar with only a Repeater Carbine. You will not be allowed to camp in the hut or stand on any rocks.
Members
Leaders
Leader - EB-INGE_67
Vice-leader - DrxyrdKrxyrd
Other members
Member 1 Gguido_99
Member 2
Member 3 etc.
The Brotherhood Of The Assassin's
I ProFeSSoR_SMirF, Grandmaster of the assassin's order have allied with the like of the respective leader of the outlaws to the end posse. we are a large group and all well trained assassins and welcome all newcomers and will give extreme change to your gameplay. or if you would like to be just a friend of us to your own choice than that is fine we are on the brink of war and we need men to fight so join the brotherhood and OTTE and we can win this war like it was meant to happen
External links
Ad blocker interference detected!
Wikia is a free-to-use site that makes money from advertising. We have a modified experience for viewers using ad blockers

Wikia is not accessible if you've made further modifications. Remove the custom ad blocker rule(s) and the page will load as expected.