Ad blocker interference detected!
Wikia is a free-to-use site that makes money from advertising. We have a modified experience for viewers using ad blockers

Wikia is not accessible if you've made further modifications. Remove the custom ad blocker rule(s) and the page will load as expected.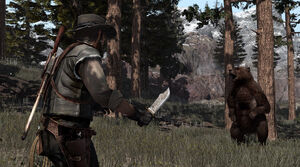 PSN's finest is a Red Dead Redemption posse.
About the posse
this is a fun loving playstation network posse.
we do a variety of different events such as:
knife fighting bears at bearclaw camp chasing packs of wolves with knives blasting the Mexican army with cannons going online and starting huge posse wars
and any other thing any posse member suggests :)
those are just some of the fun things our posse likes to do :)
Our posse does not boost gold guns or levels and we do not like any of our posse members to participate in such events, although it is your own choice.
Our posse headquaters is the huge swamp in stillwater creek due to its natural defences and awesome surroundings with lots of main areas nearby.
Our posse accepts members of any skill level and abilities, we would prefer members to have a headset but it is not required, and if you do have a headset, please don't scream down the mic at any other posse members :) We are also working our way up to Legend prestige 5, and will happily help any new posse members who also want any fast levels. The more the merrier and the faster xp we get, so come along and help ;DD
Joining the posse
to join the the posse you can add my psn or send me a message over this website, my psn and red dead.wikia username is 'XxTiPtOn-PeZaxX' and the other leader is 'Joe_Ov_Tipton' please add us or send us a message, many thanks :)
Members
Leaders
Leader 1: XxTiPtOn-PeZaxX
Leader 2 Joe_Ov_Tipton
Other members
Member 1
Member 2
Member 3
External links