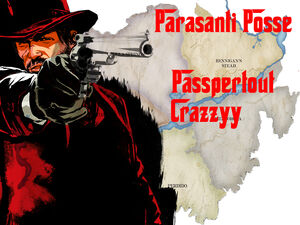 Parasanti Posse is a Red Dead Redemption posse.
About the posse
We are the Parasanti posse, we are the very meaning of perfection and greatness. Not just anyone can join us they have to go through rigorous training. You hear other possess claiming to be the top dog but we are the only true kings of Red Dead Redemption, with our advanced skills and committed players we own the world. Our gang hideout is El Mataderq in Mexico.
Joining the posse
To join the posse get into contact with Crazzyy or Passpertout.
Members
Passpertout (PSN)
Crazzyy (PSN)
Leaders
Other members
External links