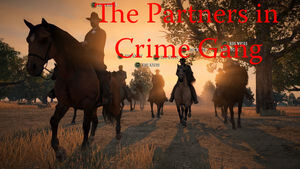 Partners in Crime is a Red Dead Redemption posse.
About the posse
RANKS Gang leader:AoGjr Aka Doc holiday
Boss:AgentofGod Aka Chris
right hand man:victimusa
1st liutenant: krazy-shocker
hunter:musica027
young gun:devil_94 Aka danny
high roller: DK
Hog boy: stump_f
Ad blocker interference detected!
Wikia is a free-to-use site that makes money from advertising. We have a modified experience for viewers using ad blockers

Wikia is not accessible if you've made further modifications. Remove the custom ad blocker rule(s) and the page will load as expected.