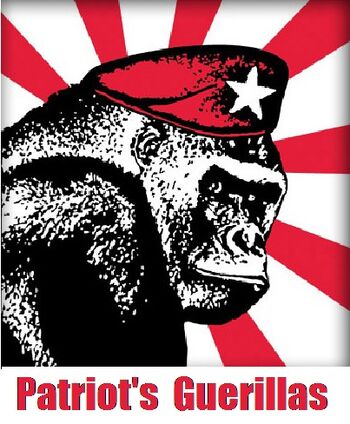 Patriot's Guerrillas is a Bad-ass Red Dead Redemption posse.
About the posse
Patriot's Guerrillas was founded by four like-minded Armadillo citizens fed up with Walton's Gang and rogue outlaws terrorizing their town.
How To Join
You must randomly encounter one of the following recruitment officer(s)
The Guerrillas
The Commander
The Specialists
Hell Jumper107 - Hand-To-Hand Combat
Energetic Elite - Long-Range Combat
xvHELL RAZORvx - Mid-Range Combat
Other Information
This posse exists only on Xbox-Live
External links
Ad blocker interference detected!
Wikia is a free-to-use site that makes money from advertising. We have a modified experience for viewers using ad blockers

Wikia is not accessible if you've made further modifications. Remove the custom ad blocker rule(s) and the page will load as expected.