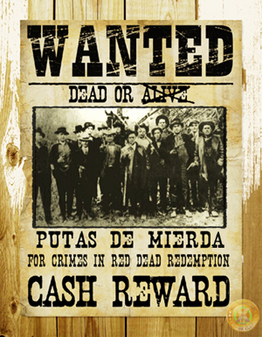 Putas de Mierda is a Red Dead Redemption posse.
We Ride Together. We Fight Together. We Die Together
About the posse
We are Putas de Mierda.
We are a UK based Xbox 360 clan, otherwise known as Xbox360UK or X-UK. We have vast experience in muliplayer based team matches. We are always up for a friendly game or even some out and out carnage, so if you would like a duel or a clan hunt then visit us ... before we visit you. Outlaws to the End
Joining the posse
If you have what it takes to ride with Putas de Mierda, then think again. We are mean Gun Toting, Kiss Stealing, Backhand Dealing, Rootin Tootin Sons of Bitches. We steal your Horse, your Guns and your Girls.
Putas de Mierda Founders
MALLRAT MBE
X UK Target
X-UK Founders
Bespokecub
Flynnstock
X UK Dragon
X UK Heero
X UK ChuckBoris
Putas de Mierda Posse
MALLRAT MBE
X UK Target
Flynnstock
X UK Heero
JJonty1
Endorser
X UK Avenger
X UK Demon
Bespokecub
X UK ChuckBoris
X UK G3ORDIE
IconicKing
Vegeta01
MotownJunkUK
lastshadow3110
Salpetersaure
Red Dead History
This has been on our radar for a while, with a few of us enjoying Red Dead Revolver. Various name ideas were thrown around including something about being broke. Kudos to Ms Target for name ideas. So we are Putas de Mierda, we look forward to killing you out on the plains :|
External links
For future Clan Hunts or Matches come and visit us at www.xbox360uk.co.uk
Ad blocker interference detected!
Wikia is a free-to-use site that makes money from advertising. We have a modified experience for viewers using ad blockers

Wikia is not accessible if you've made further modifications. Remove the custom ad blocker rule(s) and the page will load as expected.