Ad blocker interference detected!
Wikia is a free-to-use site that makes money from advertising. We have a modified experience for viewers using ad blockers

Wikia is not accessible if you've made further modifications. Remove the custom ad blocker rule(s) and the page will load as expected.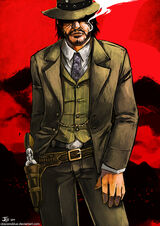 R3VOLUTION is a Red Dead Redemption posse. XBOX 360 ONLY
About the posse
This posse is for XBOX 360 players only and what we do in R3VOLUTION is run around the map, causing mayhem by becoming Public Enemy. We also frequently start gang wars with other posses. We like to pick on players that are not part of a posse too.
Motto
If you cant beat them you are not hitting hard enough
Joining the posse
If you want in just send a message to either THE F4K3 NINJA or xR3TARDNATIONx (XBOX 360).you have to have a mic to be accepted and you have to pass the tryouts
Members
Leaders
Leader 1 THE F4K3 NINJA
Leader 2 xR3TARDNATIONx
Other Members