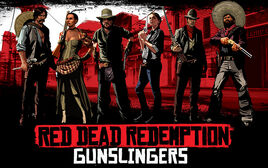 Red Dead Gunslingers is a Red Dead Redemption posse.
About the posse
We ride together We fight together We die together.
(PSN/PS3)
Treat higher levels with respect.
Nicknames please (Not needed though)
There will be a test like kill a pack of wovles with a knife ect. or easy ones for lower levels this will also be how we know what rank you should be.
All Members will get a bed in the base or if full there just outside Cochinay
The gang is based mainly round West Elizabeth and or base is Cochinay where you will get a tent. Tents and beds will differ due to rank

MUST HAVE:
Be able to take orders.
Also a good uniform (Will be imfomed about if you need a new one or if it fine on test day) until a level 25 or until high rank whichever comes first.
If you don't have good weapons or horses you will be given one.
Joining the posse
Add me (Xander1997) or Nathan-Edge and ask about joining also tell us why you think you should be given a chance to join. And we will tell you the date of your test and where to meet (Most likely the pub in Blackwater or Thieves Landing ) to take you to our gang hideout (Cochinay) to do the test, the gang hideout will also hold the joining ceremoney.
Golden Weapons and Levelling Up
Through joining the Red Dead Gunslingers you will have access to our ways and methods of fast levelling up and how to unlock golden weaponry while doing so. This only exclusive to members of the posse. Having golden weapons will grant you to privileges within the posse and also increase your rank.
Members
Xander1997,Nathan-Edge, teeheeyoulose, I-NatT, Branflake.
Leaders
Xander1997
Nathen-Edge
(There are ranks in the posse)
Other members
Allies
None so far but ask to become allies by meassaging on the leaders or will will ask you
Ranks
General(Level 50 or if Asked)
Gunslinger(Level 40)
Outlaw(Level 30)
Red Dead Private(Level 20)
Base Guard(Level 10)
Body Guard(Level 0-9)
(Lowest level drives cart and next lowest rides shotgun everyone else in the passanger seats If you legend you will start for bottom again or not if you are told that you will be a leader of any other rank.)
Activites
Hunting
Leveling up XP
Horse racing
Posse wars
Training
Fighting Outlaws
Fighting lawmen
Co-Op missions
External links
Ad blocker interference detected!
Wikia is a free-to-use site that makes money from advertising. We have a modified experience for viewers using ad blockers

Wikia is not accessible if you've made further modifications. Remove the custom ad blocker rule(s) and the page will load as expected.