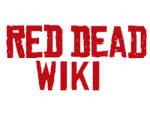 The Red Dead Wiki Posse is a Red Dead Redemption multiplayer posse. This posse is also known by their stagename, Three Dutchmen and a Canadian.
Hated by all vandals, feared by achievement boosters and avoided by outlaws with bad grammar, the Three Dutchmen, the Canadian, and entourage roam the west to bring justice to the people.
About the posse
The Red Dead Wiki posse is a posse full of editors from Red Dead Wiki.
Joining the posse
Joining is free for all users on the Red Dead Wiki. You must have a wikia profile in order to do this. If you want to join, please add your name under the "members" section below. All users that wish to join must not be known vandals on the Red Dead Wiki, or users otherwise located on the Wall of Shame. Wikia vandalising is grounds for direct removal from the posse.
(If you want to join, please place your name UNDER the other members in this format *[[User:insert username here|insert username here]] - Console you play on
Members
Leaders
Members
External links