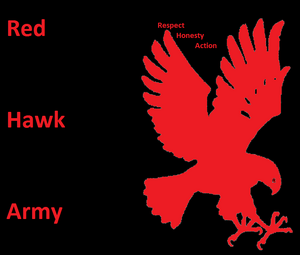 Red Hawk Army is a Red Dead Redemption posse.
About the posse
We are a Red Dead Redemption clan on the PS3 system. We are looking to recruit team players and people that have respect for themselves and others. We are also looking for people  that can speak several languages but that English is their main language. We have been the Red Hawk Army since before october 2012. Before that we were a clan but we didn't really stick to a name for very long. When we first became the red hawks we operated as a commando clan the we decided to try out being native ammericans but we eventually decided that just being an all round army was the best idea. We operate in many different ways and we are masters of stealth, sniping and open warfare. We are very oppinionated on the usage of high powered or semi automatic pistols (including the mauser pistol) and we will not tollerate anyone using such weapons. We are online most days and we look forward to hearing from you if you would like to join us.
Joining the posse
To apply to join please message Red_Hawk_Skill on PSN with your name, age and state or county (depending which country you are from) and why we should choose you over other applicants (We recieve a lot of applications so you will need to make a good impression or you will run the risk of being rejected).
Leaders
Red_Hawk_Skill
Red_Hawk_Grizz
Red_Hawk_Bait
Other members
Red_Hawk_Skill
Red_Hawk_Grizz
Red_Hawk_Bait
Red_Hawk_Cross
Red_Hawk_Dragon
You could be listed here!
Ad blocker interference detected!
Wikia is a free-to-use site that makes money from advertising. We have a modified experience for viewers using ad blockers

Wikia is not accessible if you've made further modifications. Remove the custom ad blocker rule(s) and the page will load as expected.