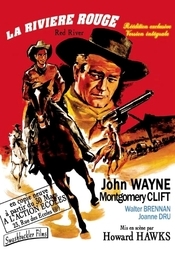 Red River D Cattle Copany is a Red Dead Redemption posse.
About the posse
Thomas Dunson is a stubborn man who wants nothing more than to start up a successful cattle ranch in Texas. Shortly after he begins his journey to Texas with his trail hand, Nadine Groot, Dunson learns that his love interest whom he had told to stay behind with the wagon train with the understanding that he would send for her later, was killed in an Indian attack. Despite this tragedy, Dunson and Groot press on, only to chance on an orphaned boy named Matthew Garth, whom Dunson effectively adopts.
With only a couple head of cattle, Dunson and the boy enter Texas by crossing the Red River and Dunson proudly proclaims all the land about them as his own. Two Mexican men appear on horseback and inform Dunson that the land already belongs to their boss. Dunson dismisses this inconvenient fact and thanks to a quicker draw in a showdown, kills one of the men and tells the other man to inform his boss that Dunson now owns the land. Dunson names his new spread the Red River D, after his chosen cattle brand for his herd. Fatefully, he promises to add M to the brand, once Matt has earned it.
Fourteen years pass and Dunson now has a fully operational cattle ranch. With the help of Matt and Groot, his herd now numbers over ten thousand cattle, but he is also broke as a result of having been on the losing side in the American Civil War. With the price of cattle in Texas not to his liking, Dunson decides to drive his massive herd hundreds of miles north to Missouri, where he believes they will fetch a much better price
The Ranch
Our main Territory is Beecher's Hope, but we also own Ridgewood farm. If any other posse or player steps a foot on our land we will open fire
Joining the posse
To join the posse send wrench head 132 a msg
Rules
To be in posse you must be able to ride and shoot
Be respectful to other members
NO HIGH POWER,only revolvers
Hores only you must have the second hores
You have to be a character from the cattle rustlers
Only shoot if fired at first unless other wise told
you have to be able to herd cattle
If some one is trespassing fire upon will
Record
Our current record is 0-0
Memebers
Wrench head 132
Master luke 45
Leaders
Wrench head 132(Thomas Dunson)
Master luke 45 (Matthew Garth)
Cow hands
Member 1
Member 2
Member 3
Posse News
July 6th-send me a msg and join, we are ready to fight even though we only have 2 members just set a date and time and we will be there.
External links
Ad blocker interference detected!
Wikia is a free-to-use site that makes money from advertising. We have a modified experience for viewers using ad blockers

Wikia is not accessible if you've made further modifications. Remove the custom ad blocker rule(s) and the page will load as expected.