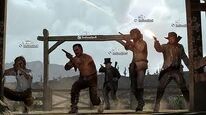 Renegade rogues
is a
Red Dead Redemption
posse.
About the posse: We are a Playstation 3 Clan,We are a group friends that like to hangout and have fun. We are willing to train new members to shoot and how to play the game and level up. If you are intrested in joining the clan please message Tiny_Michael or Mammy_h .WE DO NOT JUST ACCEPT ANYONE INTO THE CLAN. ONE RULE WE HAVE IN THE CLAN IS WE DO NOT SHOOT FELLOW CLAN MEMBERS .
Joining the posse: Before your allowed to join the clan we have a trial period so that we can get to know you and we look at your skills and attitude toward the clan and its members. If we decide to accept you into the clan you'll be initiated in to the clan.
Renegade rogues are currently recruiting if your intrested send requests to Mammy_h.
*Leaders:
Gang Members:
Tiny_Ryan
Akaep23
Jedi_Phalanx
Allies:
Geronimos Last Warriors
Confederate
Enemies: