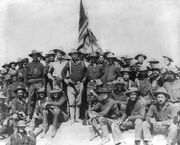 Rough Ryders is a Red Dead Redemption posse.
About the posse
We are the Rough Ryders, the Marshals of New Austin. We are active on the Xbox360 in Red Dead Redemption, Fortresscraft, Test Drive Unlimited 2, and Halo Reach. We keep the peace from renegades and noobs that are shooting everything in sight trying to look badass. Mostly we keep to free roam, but we're also very apedt at racing and gang shootouts.
Joining the posse
Message krogmanpa if you wish to join our ranks, and we'll see if you're worthy.
Members
Leaders
The big cheese- Krogmanpa
Leader 2
Other members
Member 1- hollisjustin74
Member 2- LashingMarco
Member 3- killsasquatch95
External links