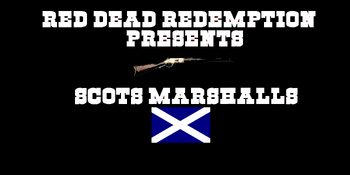 Scots Marshalls is a Red Dead Redemption posse.
Tatics
The Posse uses A Wide Range Of Tactics Which Include Sniping,Charging and Advancing.
About the Posse
As a Professional Posse of Marshalls we are always on the move our main H.Q. is in Mexico at Torquemeda where we plan our Opperations. The Posse Was Founded By The 2 Leaders David and James. The Posse Is a Scottish Based Clan Whom Train Every Day In Preperation Of Battle
Joining the Posse
If you want to join the Posse you have pass TRIALS Which Test Your Aim Skill,Dead Eye Shot and Horse Riding To get into the Posse and also has to be Willing to take orders from the Posse Leaders.
Members
Leaders
Leader 1 DukeOfGamming - David Rooney
Leader 2 WeeJayJayRFC - James Shearer
Other members
Member 1 TehA7XKid666 - Liam Robertson
Member 2 Bubba El Barto - Kieran Fenton
Member 3 NoodlesMC1 - Dylan Mclean
Menber 4 DynamicDec - Declan Baird
Menber 5 Whitby
QUOTE
I don't know what effect these men will have upon the enemy, but, by God, they frighten me. - The Duke of Wellington