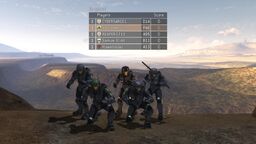 Sea's Snipers/Secret Security
is a
Red Dead Redemption
posse.
About the posse
We are a group of proffesional gamers. Discipline, respect, and skill are inforced in our clan. The clan is Xbox-360 and PC dominant.
Joining the posse
Contact on Xbox-Live Samuel Elliot, or Cybersarge1.
Members
Brigadier General Samuel Elliot (SSIA and infantry)
Private Grade 2 Deatharmy500 (Questionable, infantry)
Leaders
Leader 1 Cybersarge1
Leader 2 To be decided
Other members
Member 1
Member 2
Member 3 etc.
External links
Ad blocker interference detected!
Wikia is a free-to-use site that makes money from advertising. We have a modified experience for viewers using ad blockers

Wikia is not accessible if you've made further modifications. Remove the custom ad blocker rule(s) and the page will load as expected.