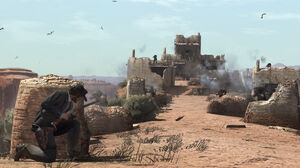 Second Chance Riders is a Red Dead Redemption posse.
About the posse
The Forgiven Saints of Red Dead is a Red Dead Redemption posse. We are a group of friends who like to hangout and have fun. Often times we find our selves involved with battles with random posses. However it is not our goal to have wars and fight others. If someone is in need of help we will attempt to see if we can help them out. We also are careful with who we let into the group because we need to know you're being honest with us. We do give second chances to those who deserve them. We do not associate with hackers and posses and players who glitch.
Members
Leaders
Other members
bretsky1
radeator
hunter112233
kitt1234
Monkey_Money
FFmAmAn88
lycan7777777
Jordymarks
count_sackula2k
Windy47
Rival Gangs
AdogX
Ghost_Rider_T2k (Randy Orton) followed by 7 other accounts
THM (Trigger Happy Mob
Loco_Killer_365
The Most Hated
The Most_Hated_Sith followed by 1 other known account
Egurel followed by 2 other known accounts
Irish sniper_21
Tiny_Michael
Rootless-Boy
Allies
dustyperkins
howardk1
kainlegendary
Bulldog424
Posses on good terms with
Big_Guns77
JohnMclousky etc.
External links
Ad blocker interference detected!
Wikia is a free-to-use site that makes money from advertising. We have a modified experience for viewers using ad blockers

Wikia is not accessible if you've made further modifications. Remove the custom ad blocker rule(s) and the page will load as expected.