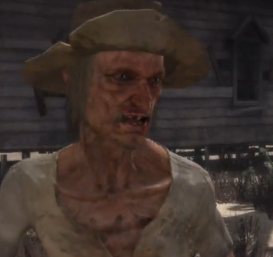 Seth's Gang is a Red Dead Redemption posse.
About the posse
Seth, upon discovering the truth about his treasure, lost the tiny bit of sanity left in him and had gathered a gang to roam the lands, targeting robbers and treasure hunters alike. Hello all, Seth's Gang is a new posse in Red Dead Redemption meant to gather polite players that follow free roam rules rather than just shoot everything that moves. NO KILLING INNOCENT PLAYERS IN FREE ROAM is the golden code, and players who dis-obey will be tied up and fed to the cannibals. If you like playing team-work with a touch of insanity (inherited from our leader, Seth) than this is the Posse for you! Some requirements-
1. Xbox version of the game

2. When in the possse, never harming another member without stating a reason.
3. Never killing ANOTHER player unless he draws gun at you.

4. No insulting within the gang.

5. Helping out posse members in need.

6. Mic is not a necessity but is recommended. The posse is open for all levels!
The posse will plan hunting, gang-hideout, challanges and free roam meetings in convinient days, so be sure to check our post on http://www.facebook.com/home.php?#!/topic.php?uid=100975796807&topic=14658. Our main page is http://www.facebook.com/pages/Seths-Gang/118794978162553?v=wall#!/pages/Seths-Gang/118794978162553?ref=ts
Members do not have to show up to any meeting, but some support is always nice. If any players needs anything done he can contact me and i will arrange a meeting.
Joining the posse
As the leader, my gamertag is assassin8me, so if you have questions, contact me. Or, in Red Dead Redemption Official Facebook Page, under discussions, find the posse discussion and contact me.
== Members==

Leaders get to plan events and votes, and can decide about ties in votes and are responsible that everyone in the posse is pleased.

Right Hands help plan events and votes, and can vote on justice bringers being upgraded. They advise the leaders about events and votes.

Justice Bringers are normal players that can only participate in votes or suggest new posse hideouts.

Cowboys are guests that are not expected to attend events at all, and are just chilled, not commited
MEMBERS
LEADERS
Assassin8me

RIGHT- HANDS
-none-
JUSTICE BRINGERS

Smooth Pancakes
Lillerawk
ShayneHX1887
Lfc Dan
Wicked Man 25
AceStayWildin
Bombot7
widowthatswhite
Trozky kvickers
COWBOYS
-none-
Ad blocker interference detected!
Wikia is a free-to-use site that makes money from advertising. We have a modified experience for viewers using ad blockers

Wikia is not accessible if you've made further modifications. Remove the custom ad blocker rule(s) and the page will load as expected.