Ad blocker interference detected!
Wikia is a free-to-use site that makes money from advertising. We have a modified experience for viewers using ad blockers

Wikia is not accessible if you've made further modifications. Remove the custom ad blocker rule(s) and the page will load as expected.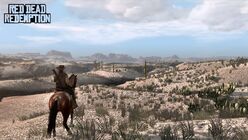 Shadow Bandits is a Red Dead Redemption posse.
About the posse
Created in 1897 by Josh Bircher, This posse was created when josh was thrown out of a town in the east and decided to head out for new austin...texas...
Joining the posse
Visit our site, look around, than go to "become an outlaw"
Members
Add_water-leader Kikas-right hand man
Leaders
Leader 1 Add_water
Leader 2 kikass
Other members
Member 1
Member 2
Member 3
External links
www.shadowban.weebly.com