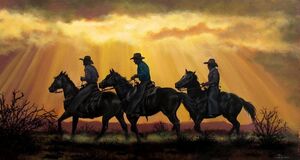 Shadow Riders (SR) is a Red Dead Redemption posse.
About the posse
The Shadow Riders, was started back around November by SR JupiterXXI. Most of the clan members we have or had came from other clans from all over Red Dead Redemption. We take our time helping clan mates level up, and help ones in need of help. Right now we are only an Xbox 360 clan. We are a pretty big clan so we dont have everyone listed down below.
NOTICE!!!
WE HAVE DISBANDED, WE SUCK. THE ONLY THING YOU NEED TO KNOW IS THAT I AM A FORMER MEMBER FIXING THIS. SR/TF SUCKS!!!
Members
'HUMAN 'RESOURCES
SR DYNAMICS
SR VENOMOUS
Clan Rules
Normal-expert aiming only.
Have fun and learn to hack.
Doing clan battles always be in party chat to avoid trash talk
Disobaying these rules make the clan look bad.
We take it seriously but we have a lot of fun!
External links
Ad blocker interference detected!
Wikia is a free-to-use site that makes money from advertising. We have a modified experience for viewers using ad blockers

Wikia is not accessible if you've made further modifications. Remove the custom ad blocker rule(s) and the page will load as expected.