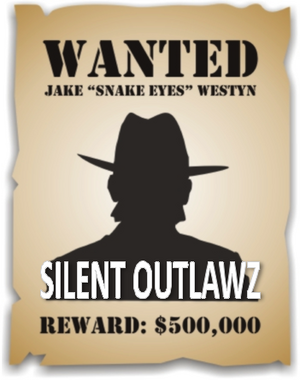 Silent Outlawz is a Red Dead Redemption posse.
About the posse
The posse was created on 7/17/10. We are very friendly to members in our posse and members that are not in our posse as well. We are willing to have a "war" with any other posse that wants to fight. We are very sportsmanlike but even when we compete against our enemies, we keep a good attitude!
Joining the posse
To join the Silent Outlawz please message one of the Leaders (LBAW Anarchy, Destructivemexi, silent wevil) over xbox live. We would like the message to be titled "Join Silent." I would be grateful if you also say if you are in any legendary and what level you are. We want to make our posse as big as possible with good players so we will be well known in the world of Red Dead Redemption.
Note: Even if you send your message to one of the leaders but a different one says you are in it is still valid so if you receive a message from any of the leaders saying you are in, you're in.
Members
List is up! Updated as soon as new members join!
Founder
Leaders
LBAW Anarchy(recruiter)
silent wevil(recruiter)
Destructivemexi(recruiter)
Other members
dannyjunejr
Connor Husky
Ratman159
starfoxsonic
ccrules221x
kingjames2396
Matkil360
Posse "war" schedule
(Posses Can Message Me To Set Something Up)
TBD
External links
Silent Outlawz Official Site (not fully up yet) - Work In Progress
Ad blocker interference detected!
Wikia is a free-to-use site that makes money from advertising. We have a modified experience for viewers using ad blockers

Wikia is not accessible if you've made further modifications. Remove the custom ad blocker rule(s) and the page will load as expected.