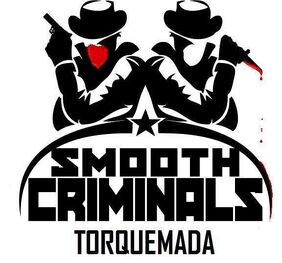 Smooth Criminals is a Red Dead Redemption posse.
About the posse
We are a kick-ass posse who play on ps3! our hideout is Torquemada, and one of our main goals is to get golden guns, cuz thats smooth!
Joining the posse
just send a request to one of us, and we will decide
Rules of the posse
your player-character can not be a lawman, federales, american army, or mexican army(juan vargas and jose rodriguez).
racism is not tolerated.
you must be at least thirteen years old. (some ecxeptions made)
you can't be an asshole to other posse members.
you must know how to KICK ASS!!!
Members
Leaders
Other members
We need moar members plz :(
S.D.D.R
The Super Donkey Death Race, link here: http://reddead.wikia.com/wiki/User_blog:Darktubbyass/Super_Donkey_Death_Race
Ad blocker interference detected!
Wikia is a free-to-use site that makes money from advertising. We have a modified experience for viewers using ad blockers

Wikia is not accessible if you've made further modifications. Remove the custom ad blocker rule(s) and the page will load as expected.