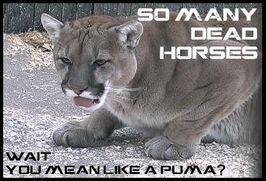 So Many Dead Horses
is a
Red Dead Redemption
posse.
About the posse
They just seem to die around us. A lot.
Xbox LIVE posse.
Joining the posse
Build a time machine, go back in time, and become friends with all of us in either high school or college.
Members
captjackvane
oldpainless133
aftermath86
ir8
jack bauer 70
big bear 216
adrenalin986
wrath of canada
Animals we've killed
Each others' horses
Other peoples' horses
Lobo the wolf
Kahn the Jaguar
Bears with knives
Tales of our Legends
Jack bauer 70 charged right past Ir8 into the arms of the enraged bear and was killed before he could, from Oldpainless133's vantage point, even get a stab in. Pretty awesome. Oldpainless133 pulled the old "wheel around and stab him while he's standing" maneuver.
That fortress at the end of the night was 100% ridiculous to watch the cannons and gunfire in the darkness. Oldpainless133 didn't even have to look at his map to see where the Posse was at. The sky was on fire.
Adrenalin986 watched his cannon ball fly into a Mexican army soldier and completely decimate him and his horse.
Oldpainless133 and Big bear 216 are riding in a stage coach. Big bear 216 is riding shotgun. Adrenalin986 is a hundred feet behind or so riding on horseback.
Oldpainless133: "and Big bear 216 has dynamite."
Big bear 216: "haha yea"
BOOOOOOM
Big bear 216 let's the dynamite blow up in his hand destroying himself, Oldpainless133, both horses on the stage coach, and kills Adrenalin986's horse.
Khan the cougar/jaguar. Bastard took 4 shotgun slugs, about a dozen or so rifle shots, and a few more rounds from Big bear 216 to take down. He's nimble and deadly.
External links
Ad blocker interference detected!
Wikia is a free-to-use site that makes money from advertising. We have a modified experience for viewers using ad blockers

Wikia is not accessible if you've made further modifications. Remove the custom ad blocker rule(s) and the page will load as expected.