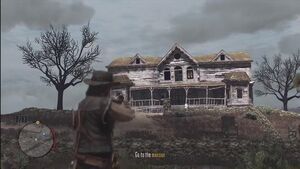 TAK is a Red Dead Redemption posse.
About the posse
We are just 2 freinds that will hang out,talk, or just mess around on Red Dead Redemption. We don't like to start or be in any clan wars but we will fight back if we need to. We would highly recommend having a ear peice or microphone so we have a way to talk about whats going on in the posse. Also, TAK stands for "The Ass Kickers."
Joining the posse
To join the posse you must be good at shooting and riding, You will also need to be able to help any other posse members if they need some back-up or help with anything else, like challenges,leveling up, etc. To have an ensured spot in the posse, you would have to 1v1 Harleyrocky or Malakhi23, and beat either one of them.
Leaders
1. Harleyrocky 2. Malakhi23
Members
There are no other members at the moment but we hope to recruit some soon.
External links
Ad blocker interference detected!
Wikia is a free-to-use site that makes money from advertising. We have a modified experience for viewers using ad blockers

Wikia is not accessible if you've made further modifications. Remove the custom ad blocker rule(s) and the page will load as expected.