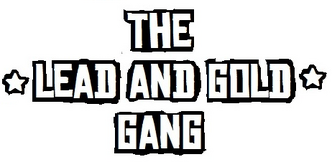 THE LEAD AND GOLD GANG is a Red Dead Redemption posse.
About the posse
The Lead and Gold Gang is an established XBOX-exclusive RDR posse..... It consists of mainly UK members but is open to members of other timezones, if you don't mind the time difference.......
This posse was formed to have some fun, both in freeroam and PvP..... We tried to breakaway from the influx of elitist posses spending all their time in PvP..... We just have fun doing absolutely anything and everything that this game has to offer.....
The Lead and Gold Gang is mainly made up of more mature members. However, we accept younger people and hope to be good in-game role models to them..... Make sure they know that there's more to the game than just insulting eachother and griefing.....
The Lead and Gold Gang are proud to be allied with established posses; The Bandits, The Knaves , FTR ...... Also, Reign in Blood and xRDRx (Red Dead Rulerz)........
Joining the posse
Our Website - http://reddeadretribution.forumotion.com
@ The reddead.net Forums - http://www.reddead.net/forums/thread-the-lead-and-gold-gang-recruitment-xbox--19270
Members
Michael (TheSweeneyFozz) - Clan Leader
Martyn (xRDRx ADONYSx) - Co-Leader
Cat (thepyroarcher) - Founder
Jamie (JEwen97) - Founder
Squirrel (SoldierSquirrel) - Chief of Acorns
Tiernan (TheLongArmedOne) - Gunslinger
Wouter (wW Galvanize Dd) - Gunslinger
Anthony (madman and gun) - Gunslinger
Sam (aLucidMind) - Gunslinger
Liam (BaronVonSkinnZ) - Gunslinger
(parki1997) - Gunslinger
(ScruloAssassini) - Gunslinger
(Damnation Rider) - Gunslinger
Sam (the shooting hedgehog) - Gunslinger
(ANTI Terrorist1) - Gunslinger
(FineGun) - Gunslinger
Sander (Ihunderboy) - New Recruit
Jack (Just Jack 006) - New Recruit
Logan (dark shade32) - New Recruit
(SGTCxelites) - New Recruit
Evan (kylezarmy) - New Recruit
Danny (DannyHex) - New Recruit
External links