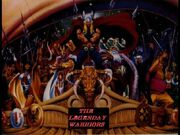 THE LEGENDARY WARRIORS is a Red Dead Redemption posse.
About the posse
WE'RE A CLAN 200 STRONG, THE WARRIORS FROM "ASGARD" WE PLAY ALL TYPES OF GAMES.
THIS CLAN IS ON XBOX360. IF YOU WANT TO JOIN MESSAGE ONE OF THE LEADERS & WILL TEST YOU OUT. TLW IS AN AMAZING FRIENDLY CLAN, WE GIVE OUT MICROSOFTPOINTS TO OUR MEMBERS & THERES PLENTY OF RESPECT.
Joining the posse
Members
Leaders
Other members
Member 1
Member 2
Member 3 etc.
External links