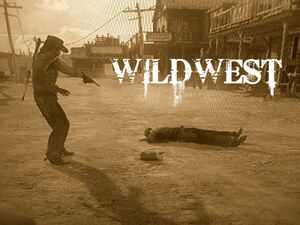 THE MOST HATED is a Red Dead Redemption posse.
About the posse
THE MOST HATED CLAN ARE A GROUP OF ONLINE GAMERS ON RED DEAD REDEMPTION, WITH A FIERCE REPUTATION. WE TAKE ON ANY SERIOUS GAMERS WHO PLAY WITH SKILL ALONE AND DO NOT GLITCH, WE HAVE AN ON GOING DISPUTE WITH ANOTHER CLAN CALLED MOST HATED AS THEY SAY WE HAVE STOLEN THE NAME BUT AS WE ARE CALLED THE MOST HATED WELL WE WILL LET YOU DECIDE, MEMBERSHIP OF THEIR CLAN HAS ITS LIMITATIONS AS YOU HAVE TO ABIDE BY THEIR RULES AND TAKE ORDERS DURRRRR!. GET OVER IT, ITS A GAME WE THE MOST HATED WE HAVE A LAUGH AND ENJOY THE GAME BASICALLY YOU CAN DO WHAT YOU WANT BUT AS I SAID BEFORE GLITCHERS ARE NOT REAL PLAYERS SO ITS UP TO YOU CHECK OUT OUR CLAN BUT IF YOU WANT TO CHECK OUT JUST MOST HATED LOOK IN WIKI AND PISS YOURSELF LAUGHING AT THE RULES THEN COME ON AND JOIN US LOL.THE TWO MAIN FOUNDERS OF THE CLAN ARE THE_MOST_HATED01 AND THE_MOST_HATED72 THEY ARE THE BRAINS BEHIND THE CLAN WE DONT GIVE ORDERS BUT WE DO GO POSSE HUNTING. OUR MAIN HANGOUT IS MACFARLANDS RANCH THAT IS WHERE YOU WILL ALWAYS FIND US. WE WILL ACCEPT ANY POSSE AS A CHALLANGE BUT WILL BOOT GLITCHERS, SO LADS N LADIES IF YOU WANT TO TRY YOUR LUCK YOU NOW KNOW WHERE TO FIND US, OTHER POSSE MEMBERS ARE AS FOLLOWS...... THE_MOST_HATED74 THE_MOST_HATED82 THE_MOST_HATED68 THE_MOST_HATED89 THE_MOST_HATED99 THE_MOST_HATED22 THE_MOST_HATED94 THE_MOST_HATED65
Joining the posse
WE WILL CONSIDER NEW MEMBERS
External links
Ad blocker interference detected!
Wikia is a free-to-use site that makes money from advertising. We have a modified experience for viewers using ad blockers

Wikia is not accessible if you've made further modifications. Remove the custom ad blocker rule(s) and the page will load as expected.